The plan for this page is to recount a little about my experience with Tang Soo Do.  It's taking a while to pull it all together but it'll get there.
---
I started training after college shortly after moving back to my hometown from Storrs.  I had no idea what I was looking for at the time and it was shear luck that I stumbled across Breuer's Martial Arts, as nearly as I can reconstruct it, late in 1987.  It had the virtue of being close to my condo and in the same strip mall as my gym.  I started alternating nights going to one or the other to train going to the gym for strength training and the dojang for "martial aerobics" as I initially thought of it.  My roommate at the time and high school pal, Chris, had some background in Aikido and joined the school also.  My younger brother, Tom, even trained there for a bit.
The school's owner, Sa Bom Eric Breuer, had a great attitude about teaching and sharing his enjoyment of Tang Soo Do.   Even though I only trained with him for a couple of years, I consider him a major influence on my attitude about training and, later, on what I looked for in a new school.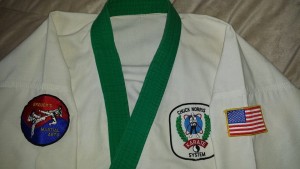 I was at Breuer's for a couple of years earning my orange and then green belt under Chuck Norris Karate System shortly before if became Chun Kuk Do in 1990.  There were a lot of changes at that time both in the school and in my work life.  For various reasons, mostly a job related relocation, Sa Bom Breuer sold the school to two of his senior black belts, Jeff and Steve Giroux.  Between the philosophical shifts in the school and changes in my work schedule commitments, I ended up setting Tang Soo Do aside shortly before I would have probably been ready to test for my red belt.
The school lasted in that location for a few more years until the Giroux's left for college.  Both brothers opened and still operate successful martial arts schools in Connecticut after they graduated.  I didn't hear about it until many years later but Sa Bom Breuer had another UFAF affiliated school in Waterbury in the mid-90s in addition to climbing the professional ladder with the Connecticut State Police.  When he retired from CSP he was part of the Governor's personal security detail.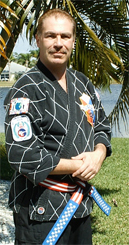 It was many years before I got in contact with Sa Bom Breuer again through the wonders of Facebook in the spring of 2010.  It was good to find him well and happily retired in Florida.  I should have known he'd still been training all those years and, among his other martial arts accomplishments, had been named Soke to Rossi Kun Tao and developed his own system, Chun Kuk Moo Sul, combining elements from his varied training.  I was still at the fire department  but by then I was already into my "exit plan" working on my engineering degree to start a second career.  It turned out to be a good time to start thinking about training again.
Fast forward to the summer of 2014… {to be continued}
---